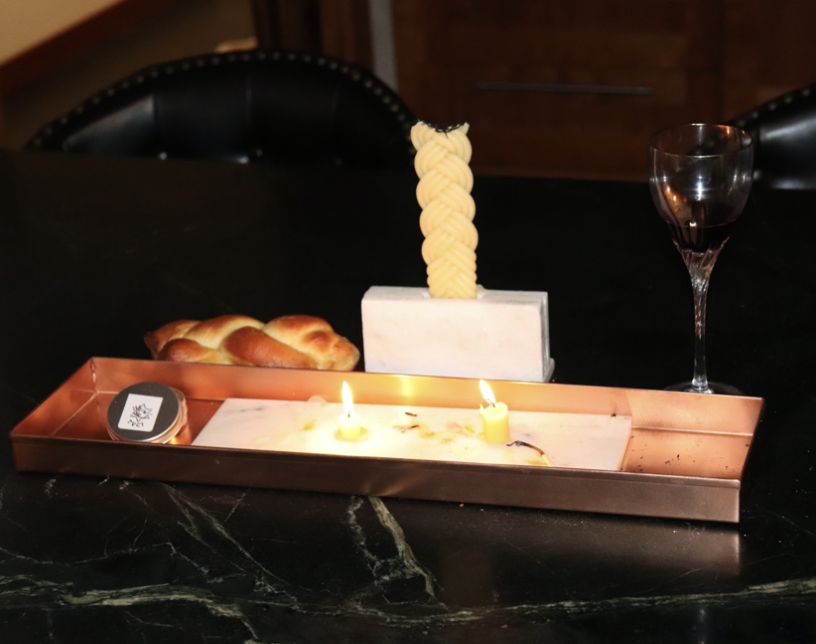 by Jesse Pino, TVCJ Board Member
In these busy and trying times, it can feel like we are always 'on'. With adults telecommuting and kids distance learning or homeschooling, the usual barriers between work and home are blurred. Work takes over spaces and times that should be reserved for family, and the kids can walk in during work meetings.
One solution to this conundrum is to clearly mark time – instead of separating in space, we separate in time. My family has recently found some comfort in observing the Jewish traditions of Shabbat and Havdalah to help us do this. The symbolism of these rituals resonates with us and gives us something to look forward to.
Shabbat marks the end of the working week. We light candles, bless the wine, and bread–All good Jewish celebrations feature fire, wine, and food! These remind us to carry a light within ourselves, to rest, and to honor the earth and the workers that provide our food. We also honor our children and remind them how they honor us. The weekend is the time to slow down and connect with family.
Havdalah marks the end of the Sabbath. We light a braided candle to signify how family, friends, and community burn brightly together while still maintaining their own identities. We pass around wine and spices that represent the fragrant beauty of all that is good and true in life and sustains us for the entire week. During Tri-Valley Cultural Jews regular community Havdalahs (which have gone online for the time being), we then share any special or notable events that have happened during the last week. These can be anything from our littlest members losing a tooth, to someone getting a job promotion. We then extinguish the candle in the wine, transferring its spark to our hearts to carry forward into the week. Community Havdalahs are then frequently followed by games (or movies and pizza, in less socially-distant times). Connecting in this way has helped me and my family stay sane and make stronger connections in the community. We hope to see you at a Havdalah sometime soon!